US social media company Twitter announced on Monday (April 25) that its board of directors has accepted a takeover deal proposed by billionaire Tesla founder Elon Musk , as well as accepting Twitter privatization proposal.
According to a press release issued by Twitter, Musk will be paying $54.20 per share in cash for a total value of about $44 billion. After the deal, Twitter will become a private company.
Musk responded with a simple statement on Twitter: "Freedom of speech is the cornerstone of a functioning democracy, and Twitter is the digital city square where people can discuss matters that matter to the future of humanity." Augmenting the product with new features, making algorithms open source to increase trust, defeating spam bots, and authenticating everyone makes Twitter better than ever. Twitter has huge potential - I look forward to working with the company and the user community Collaborate to open the future."
Musk's proposed acquisition of Twitter was unanimously approved by Twitter's board of directors and is expected to close later this year. Musk has secured $25.5 billion in fully committed debt and margin loan financing and will provide about $21 billion in equity commitments to complete the deal, the statement said.
Twitter's independent board chairman, Bret Taylor, said in a statement that the Twitter board considered Musk's proposal thoughtfully and comprehensively, particularly in terms of merger value, certainty and financing. "The proposed transaction would represent a substantial cash premium and we believe this is the best path forward for Twitter shareholders."

The Wall Street Journal said that if the acquisition goes through, it would be one of the largest in tech history and could have a global impact on how billions of people use social media over the next few years.

Dogecoin 's price surged about 27% at one point after news broke that Twitter had accepted Musk's takeover proposal . Musk has always been a proponent of cryptocurrencies, and aside from talking about Dogecoin, his Tesla company is one of the biggest corporate buyers of bitcoin . Earlier this month, Musk also made a series of proposals for Twitter's Twitter Blue subscription service, including lowering prices, banning ads and allowing users to pay in Dogecoin.
Shibetoshi Nakamoto, the founder of Dogecoin, tweeted that he hoped that Dogecoin would add practical functions: 1. Improve the commercial application of Dogecoin 2. Use Dogecoin as a tip currency 3. Build a bridge between Dogecoin and Ethereum, Allow it to work with Web3. Musk responded by saying that the first one is positive, the second one is fine, and the third one is not needed.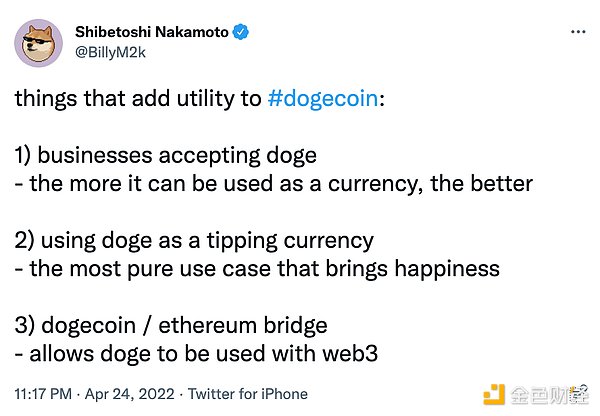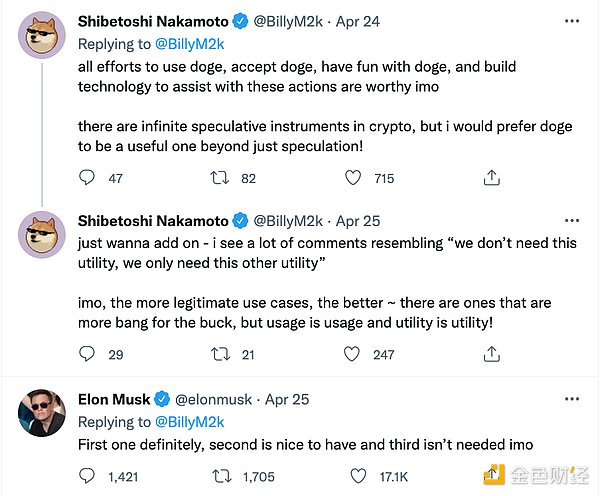 Perhaps soon, we will be able to see Dogecoin on Twitter.
However, when Musk takes over Twitter, he will face a series of unanswered questions: Who will be Twitter's new CEO? How much control will Musk wield? How to achieve freedom of speech on Twitter? ...we'll keep watching.