For two days on the weekend, the circle is paying attention to a project-Moonbirds.
On April 16, it was officially put on sale at a price of 2.5 ETH , with a total of 7875 pieces, which were sold out within a few hours. According to the price of ETH USD, the funds raised in this sale are about 66 million US dollars. It is reported that 100% of the proceeds will be donated directly. To PROOF Holdings Inc, a web3 media company backed by True Ventures;

On April 17, the 24-hour trading volume has exceeded 110 million US dollars, and the floor price has gradually risen, and as of 11:00 on April 18, it was 19.69 ETH;
On April 18th, Moonbirds #3904 was traded at a price of 150 ETH, or about $457,000, setting a record for the highest transaction volume of the NFT series.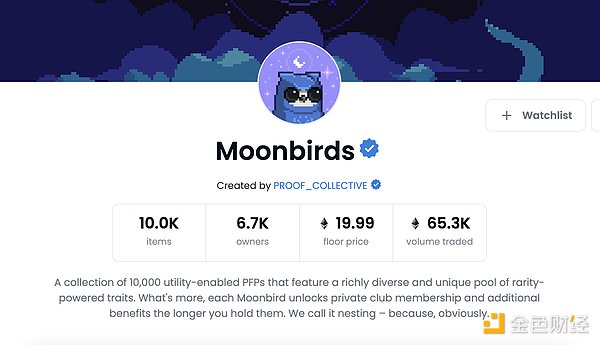 Granted, the NFT market is highly introverted, but Moonbirds seems to have easily won the market's attention.
Moonbirds is a series of bird-based NFT avatars launched by the podcast program PROOF (founded by True Ventures partner Kevin Rose, PROOF is a high-quality podcast focused on the NFT field), with a total of 10,000 pieces. Of these 10,000, 2,000 were offered to PROOF Collective NFT holders through free minting, 125 were distributed by the Moonbirds team, and the remaining 7,875 were minted by those who were licensed through a public lottery at 2.5 ETH each.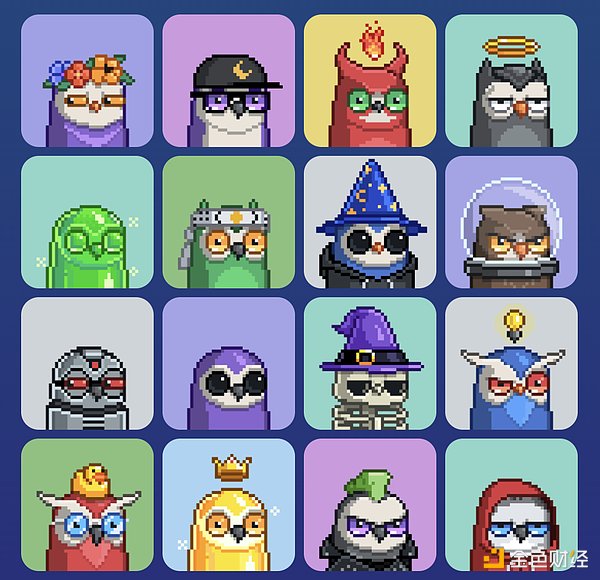 Moonbirds are created on the Ethereum network , and each bird has different characteristics that indicate their rarity. It was originally launched as a Dutch auction starting at 2.5 ETH, but due to high demand, the team opted for a raffle and a whitelist sale (the whitelist is often used to prevent bot attacks from falling in demand). With thousands of NFTs, why is Moonbirds so popular?
Moonbirds is said to be promising more than many other NFT projects, which explains why the demand for Mint is so strong despite its high price. Moonbirds ostensibly resemble cute bird characters, but in reality they are PROOF's "utility NFTs" .
PROOF was a huge success when it launched PROOF Collective, a private membership club of just 1,000 NFT collectors and artists. PROOF Collective's first product, called Grails, showcases ultra-rare pieces from the likes of Larva Labs and Tyler Hobbs, as well as its floor price of 100 ETH on the secondary market. NFT holders with this permission have special permissions to access PROOF private Discord, listen to the latest podcasts in advance, participate in offline activities, and so on. In previous episodes, PROOF has also invited Beeple, GaryVee, John Crain ( SuperRare CEO), Gabby Dizon (YGG co-founder), Alexis Ohanian (Reddit co-founder), Tyler Hobbs (Fidenza creator), etc. Many of the most well-known artists, practitioners and other big names in the NFT field discussed the most cutting-edge topics in the NFT field, and their content has considerable influence in the industry.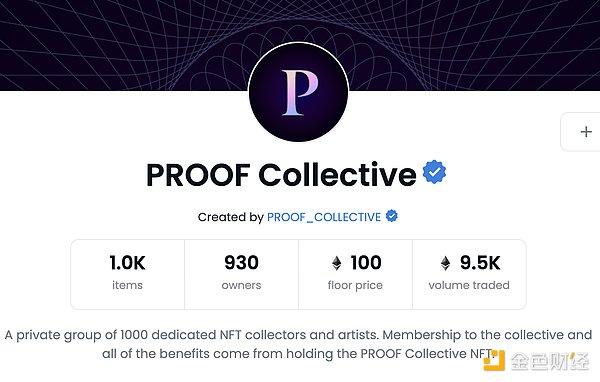 According to its CEO Kevin Rose's narrative and official content, holders of Moonbirds will roughly have the following three permissions: First, holders of Moonbirds can unlock membership in some private clubs, including entering PROOF's private Discord to participate in closed doors Discussion and so on. Second, Moonbirds holders will get advance access to PROOF's upcoming metaverse project, Project Highrise. Third, Moonbirds themselves will also have some special gameplay, and holders can put their Moonbirds into a "Nesting" state.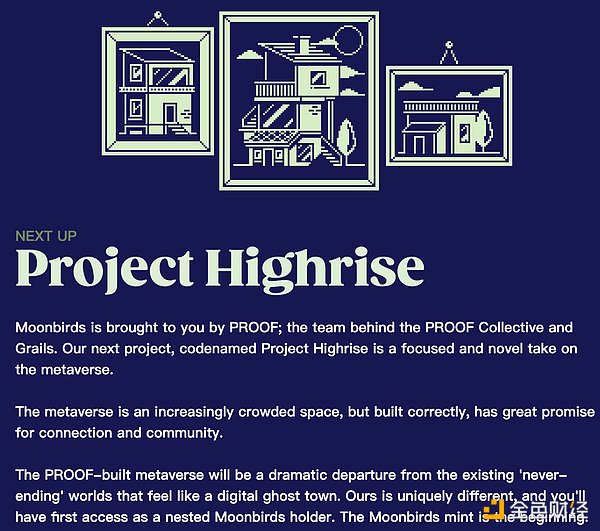 Officials say Nesting will launch a few days after the auction is complete. Officials will calculate the length of the current nesting cycle and the cumulative nesting time. Both will have different rewards, and PROOF officials have not announced the specific rules for nesting rewards. After entering the locked state of nesting, Moonbirds will not be able to normally trade through secondary markets such as OpenSea (it will be prompted when the buyer places an order), but it can still be transferred to other addresses in the website provided by PROOF in the form of a personal signature. The purpose of this setting is to prevent some common remote function call phishing methods.
Plus, PROOF will receive 5% of all secondary sales. The proceeds will be used to continue to hire more full-time employees, fund operations and create more value for the community.